SHANGHAI ACROBATIC SHOW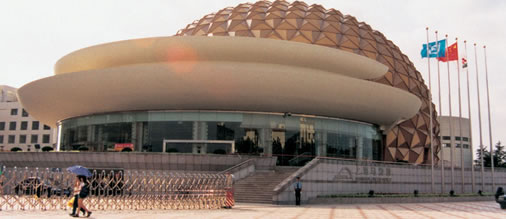 Shanghai Circus World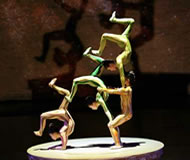 ERA- Intersection of Time
ERA- Intersection of Time - As a multimillion-dollar stunning acrobatic extravaganza, the first of its kind in China , ERA is a multimedia odyssey whose inspiration is a direct result of the combination of traditional Chinese acrobatic arts and modern technology. Just like Shanghai , ERA evolves through a constant collision between the past and future.
ERA is a love story, yet it is also a contemplation across the millennia, a fascination with that other dimension man has yet to conquer: time. ERA's acrobats are on a quest to find that tenuous point of balance, the intersection between X, Y and Z.
Not only will the audience be amazed by the acrobats' control and precision, they will be enchanted by the world that is created through the use of multimedia, technology, lighting and sound effects, elaborate costumes, original live music and a lot more.
As such, ERA can remain universal, without language or cultural barriers. A thousand-year-old gesture is worth a thousand emotions, a thousand images, a thousand words ……
Program
Prologue
Mirror Mirage
Magic Water
Bowl Balance
Kicking Bowls
Hoop Diving
Jar Juggling
Snake Girls
Wheel of Life
- Intermission -
Fire Meteors
Sculpture
Russian Swing & Teeter Board
Chair Tower
Trampoline, Russian Bar & Bungee
Forever
Spinning Plates
Space Motorcycle
Finale
Highlights of ERA Acrobats Shanghai

* Dream Mirror Cage
* Magic Water
* Compass
* Parachute
* Orbital Station
* Zero Gravity
* Forever
* Spanning Earth
Information to the show:
Time: Every evening at 19:30pm-21:00.
Address: Shanghai Circus World,No.2266, Gonghexin Road. 上海市闸北区共和新路2266号(近广中西路)

Hot line: 18621278866
Booking email: shanghaiacrobatics@gmail.com
Ticket list price and our discount price:
RMB

$US Dollar

RMB

$US Dollar

RMB

$US Dollar

30

26

23

45

40

35

400 zone

390

65

380

63

370

62

98

97

95
How to Book discount tickets( Notice for buyer ):
Discount tickets booking only by Email or phone call, give us your name; the number of tickets ; price; and the mobile number please.

The Shanghai Circus World is very full everyday, please contact with us at least 5-10 days inadvance!!

We are not the Theatre ticket office. we are a travel agency. So when you arrive the theatre please contact with our guide.

Please give the payment to our paypal account to make sure your booking.



4. We only make reservation for the color section, we can't promise the seat number!